Following the trend of solo backpacking, I decided to give it a shot too. Quite obviously, I had to face a mountain of questions justifying my solo trip to Pondicherry, but keeping it all aside, I finally managed to go for it and I can say I did pretty well.
PLANNING MY SOLO TRIP TO PONDICHERRY FROM BANGALORE
People if you are thinking why I chose Pondicherry over the Himalayas (the most preferred destination for solo backpackers), I should clearly tell you that I have a full-time job (wasn't born rich), in the 9-5 job system, asking leaves is equal to asking a portion of your boss's savings. Thus, looking at my pocket condition and my boss's not-so-happy face, Bangalore to Pondicherry seemed to be a doable solo trip, at least to begin with. The other reason, of course is the serene beaches of Pondicherry and the French colony that attracts a lot of shutterbugs like me.
As it was going to be my first solo trip from Bangalore to Pondicherry, I was keen on having a rock-solid plan. While I had already visualized the plan in my mind, the only thing left was to live it. The planning phase was no less than a major mission, from booking the bus to finding a decent stay, creating a list of tourist places to visit in Pondicherry, to the list of food joints I could satisfy my taste buds at, every detail was right there on my notepad.
However, seldom does the plan go as planned, isn't it? And that's what makes your trip even more exciting. So here's how I spent two days in Pondicherry.
Day 0 – Beginning my solo trip to Pondicherry
I booked a Greenline bus paying about INR 800, you can get other options at a lesser price, additionally, you can travel to Chennai and book a Chennai to Pondicherry bus, however, it will take more time. You will find quite a number of bus operators providing bus services from Bangalore to Pondicherry, even if you haven't booked your ticket online, just go for spot booking, if you didn't book it online.
I reached Madiwala (pick-up point) by 9 PM sharp, the bus came almost half an hour late given the traffic situation in Bangalore. Why do I prefer traveling at night? It saves an entire day, you get a night of good sleep to start afresh the next day. Making its way through the annoying traffic we finally touched the highway around 11 PM and the driver happily put pressure on the accelerator. Within minutes we were cruising at a substantially high speed and I must confess I was a bit scared. Little after I fell asleep praying to reach my destination safely.
Saturday Day 1
I reached Pondicherry at around 8 AM after a slightly bumpy ride. I had booked my stay at The Retreat run and maintained by the Aurobindo society which was around 1 km away from my drop location. Although there was a pile of autos waiting for you to hop on and take a ride, I chose to walk my way out through the beautiful and quiet roads of Pondicherry. 
With 4 hours in hand, ( my check-in time was 2 PM), I decided to start my Pondicherry trip by having a tummy-fill breakfast and visit the nearby tourist places in Pondicherry. 
As a result of my extensive research, I already had the list of best eateries in my mind and headed straight towards one of the most famous places to eat in Pondicherry  – Baker street. No wonder the shop was teeming with foreigners given the authentic french spread it had to offer. The hard-to-pronounce name of the dishes left me confused and puzzled. So I decided to head to another joint, rather a more familiar one – Indian Kaffe express.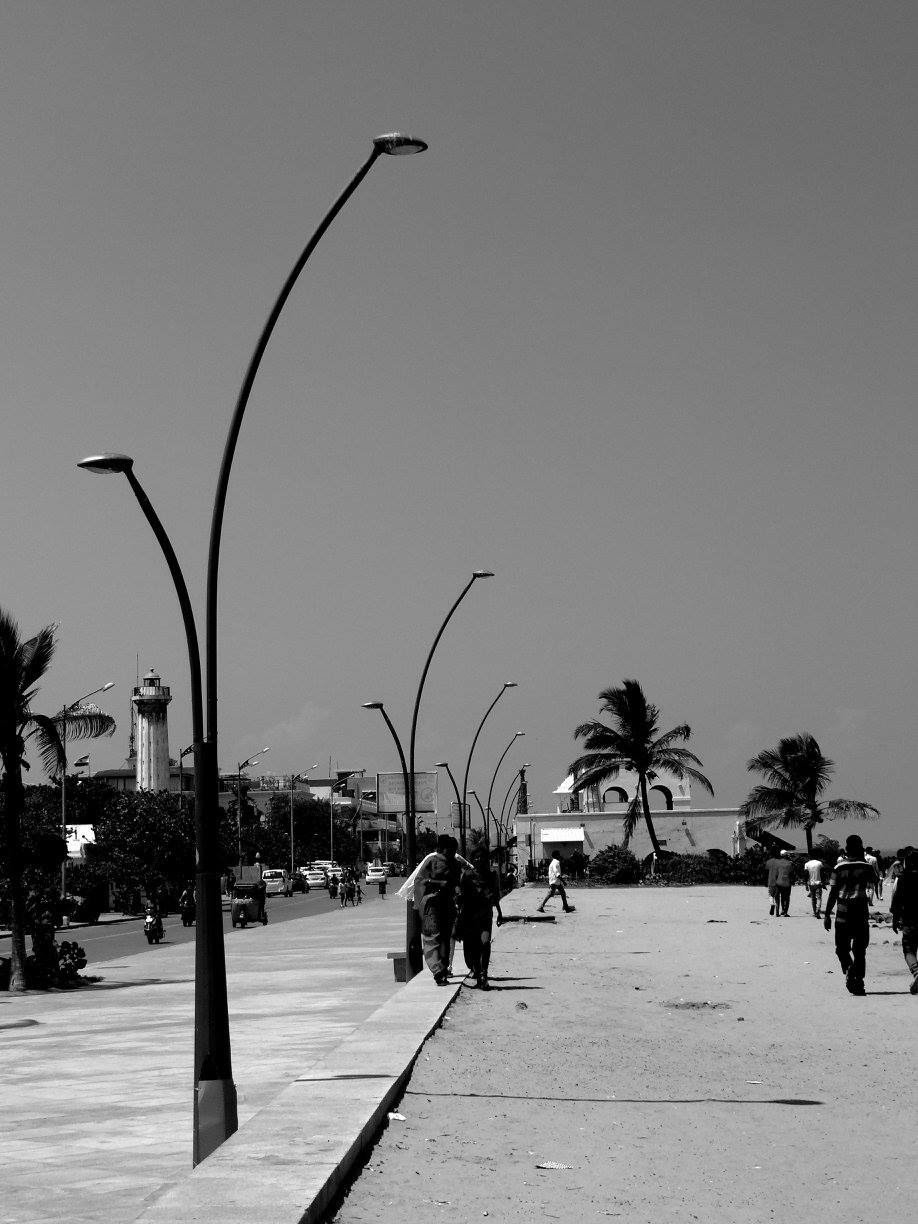 After satisfying my hunger, I headed towards my accommodation and covered a few places such as the War Memorial, Gandhi statue, Joan of the arch park, all of them facing the mighty Bay of Bengal. I stopped for a while to watch the waves come and go, the sun shining bright and creating a golden reflection on the surface of the water, birds flying over, retreating from a long voyage, maybe. Everything seemed to move in slow motion and I was literally lost in a dreamy world. A loud honk broke the momentum and I came back to the real world. Following the road along the sea, I reached the hotel which also was sea facing. 
The staff was quite helpful, they arranged an early check-in for me as I looked damn tired and really wanted to get a quick refreshing shower. (Remind you it was quite humid in the month of September). I blessed myself for booking an AC room, nothing felt better than it, not even sea at that time (haha). I took a quick shower and a brief nap before heading outside for lunch. 
Right in front of my hotel was Rock beach – a popular beach in Pondicherry,  as the name suggests it is a beach full of rocks and thus not suitable for swimming. There are plenty of shops and restaurants in close proximity to Rock beach where you can satisfy your taste buds. Well, I decided not to experiment with the options and went straight to a south indian joint. With a dose of Dhosa in my stomach, I was all ready to explore the beautiful places in Pondicherry by walking through colourful lanes of this french town. As you move around the lanes of Pondicherry you can feel the french colonial vibe, the buildings, the architecture, everything is so colorful and vibrant that they make a perfect background for your pictures.
I walked to the famous church – Basilica of the Sacred Heart of Jesus. A well-maintained structure with impeccably beautiful architecture. The red, yellow, green glass windows made a colourful reflection on the walls and aisle of the church. I sat inside for a moment to enjoy the calm and peaceful environment. After soaking myself into the blissful atmosphere, I moved out to visit one of the other famous pondicherry tourist places. 
Next stop was another church Immaculate Conception Cathedral, which was equally beautiful. The presence of French colonies have helped build beautiful churches and surprisingly people even now don't fail to maintain them and restore them occasionally. 
I started to walk back towards my hotel as it was getting dark. On my way back I tried the fried ice cream given the recent popularity. I came across a number of bakeries in the lanes of Pondicherry and couldn't resist myself from indulging into the mouth-watering bakery products. 
As per my research on what to eat in Pondicherry, I found out the wood-burn pizza is a must-have. Without further adieu, I went to a famous pizza place and ordered a medium size chicken pizza with extra cheese (a must when you are walking so much, helps to keep yourself energised :)). My dinner was sorted. 
It was 8 PM and too early for me to call it a night. Right opposite to my hotel was Le cafe – a small food joint piping with foreign peeps, the soothing sea breeze made it all the more attractive. I decided to take a feel of the place before heading straight to my room. 
The roaring sea, the sky full of stars, the cool breeze, and the smell of freshly brewed coffee, I just had halt before I start making the next day's plan.
Day 2 – 
My bus was scheduled to leave at 4 PM which meant I had only half of the day to explore the remaining tourist places on my list. So without wasting much time, I woke up early, had a nice hefty breakfast served at the hotel (complimentary) and headed out for my first destination – Bharathi Park. Oh, I checked out the hotel, although they allowed me to keep my luggage in there. Luckily, I didn't have to carry my luggage the entire day. 
Sunday – Just a few minutes walk from my hotel, I wouldn't wanna miss this popular spot also known as the Government park in Pondicherry. Taking a stroll under the canopy of trees was definitely a relief from the scorching heat. At the centre of the park lies the The Aayi Mandapam or the Park Monument which is sure to attract your attention. This beautiful park with flower beds and little water bodies is ideal for a small walk or just to sit at one one of the granite benches and read a book. 
Later, I visited the famous Sri Aurobindo Ashram, believed to be the place where Sri Aurobindo and the Mother lived for quite some time while in Pondicherry. The first thing I noticed was the queue outside the building, i was amazed to see people from different backgrounds, cultures, corners of the world come together at one place. I joined the queue and within a few minutes entered the building. At the centre of the building is a nice quartyard, well maintained. The surprising part was, despite being a little crowded there pin drop silence. The building gives you a feeling of peace and patience. Even though I wanted to be there for some more time, I had no choice but to leave. 
Just a few meters ahead is one of the famous pondicherry tourist places – the Pondicherry Museum. One can see a number of prominent artifacts and antique pieces that speaks widely of the Chola Empire.The museum also has a number of stone statues which is surely another major attraction. After taking a round of the two storey museum I headed towards my next destination. 
I reached Arulmigu Manakula Vinayagar Temple after a few minutes of walking. The road that leads to the temple is crowded with many stalls selling puja samagri like, flowers, garlands and other necessary things. The lane itself is so colorful and lively, I couldn't wait but take a snap of it. I didn't get a chance to go inside as it was afternoon and the temple remains closed between 12:30 – 4PM. With a sad heart, I moved on. It was 2'Oclock, just about 2 hours in hand, I finished my lunch at a popular south indian joint then proceeded towards the hotel to pick my luggage.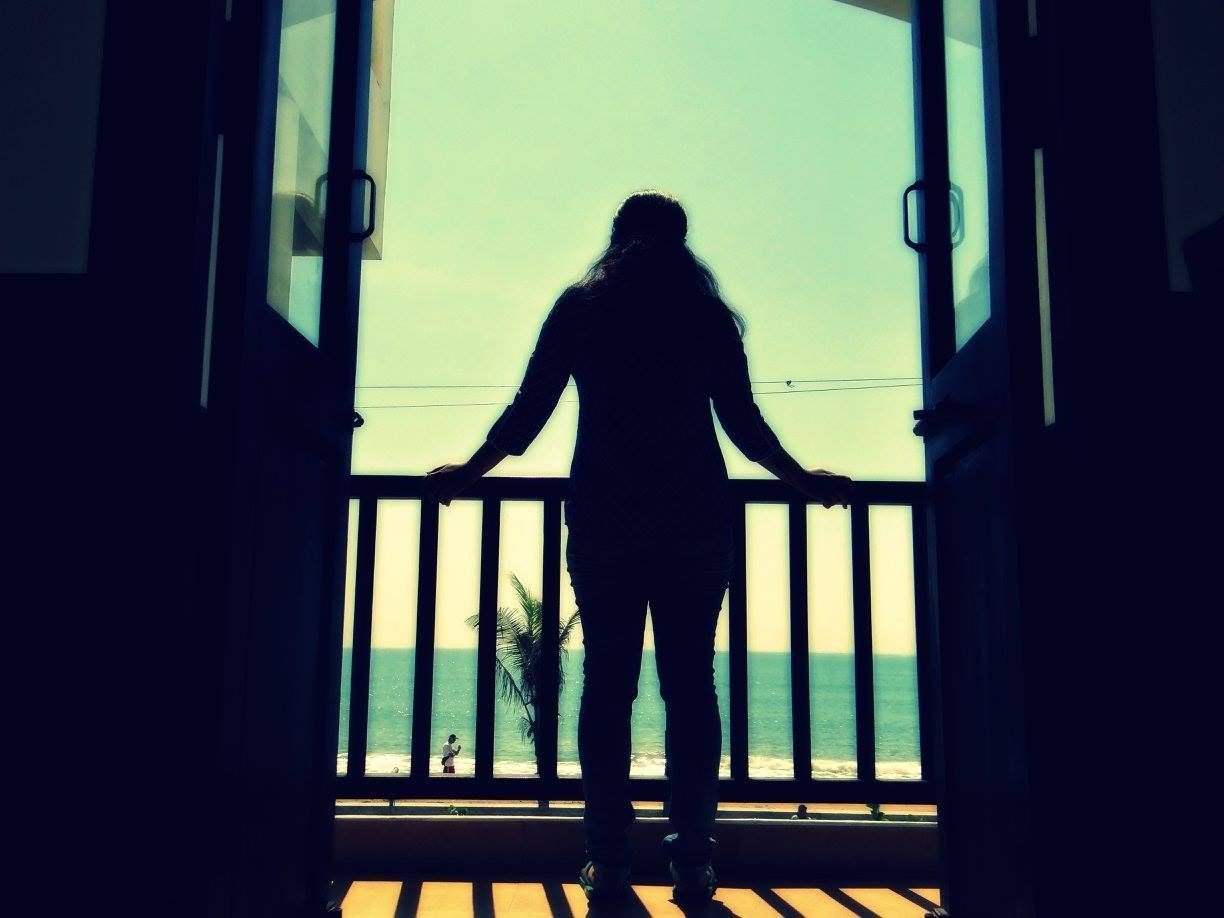 A last look at the mighty sea from the Pondicherry beach, promising to come back again and spend more time, I walked towards the bus stand. The bus started right on time and with one or two breaks in between, we reached Bangalore by 11:30 PM with fresh memories of the sea and the French colony. So, this is how I completed my first ever solo trip to Pondicherry.