After a hectic month of marriage, guests, food, and dance, shifting from Kolkata to Bangalore and resume work, I was craving for a soothing break. So as the idea popped into my head, I quickly started searching for the best places to visit near Bangalore that can be covered within 2 days (as with job title, you only weekends for yourself isn't it? Thankfully, there are plenty of options, so much so that often it leaves you baffled. Given the high rise in temperature, we couldn't think of anything better than visiting a hill station. Our choice was easy and sorted, the places we decided to go was Chikmagalur. Yeah, nothing fancy as we have already been there quite a number of times, frankly we have lost the count, yet the green mountains seem to be so enchanting that you wouldn't mind visiting over and over again. 
Searching the stay 
When it comes to planning a Romantic getaway near Bangalore, it's quite a task. For us, luxury isn't really the thing we look for, but as it was going to be a trip to just relax and spend time with each other, we decided to find something that is beyond our basic choice. So the hunt began! There are plenty of stay options at Chikmagalur and nearby areas, from top-notch resorts to basic homestays, we were looking for something that wouldn't make a hole in our pockets as well as offer standard facilities. After searching numerous options, I finally found a semi-luxurious stay called Upasana Retreat.
Watch our video on Upasana Retreat
Tucked away in the lap of nature, this place will surely rejuvenate you. A place so beautiful that you could only have seen in movies or wallpapers. The idea of visiting a Hill station near Bangalore became all the more intriguing.
A Upasana Retreat is located at a stunning location bordering the Kudremukh National Park. For those who know about Kudremukh, you could imagine what the surroundings would be like. And for those who don't know, you can imagine greenery at all sides, listening to the soothing sound of water streams, birds chirping and the cool breeze playing around you at all times. Kudremukh is recognized as one of the last biodiversity spots in the country and you won't be disappointed coming here if your soul is searching for peace and relaxation.
The experience
We started around 3:00 am in the morning from Bangalore as our plan was to reach the stay before breakfast. After driving for continuous 6 hours we stopped to gulp on some delicious neer dosa on our way.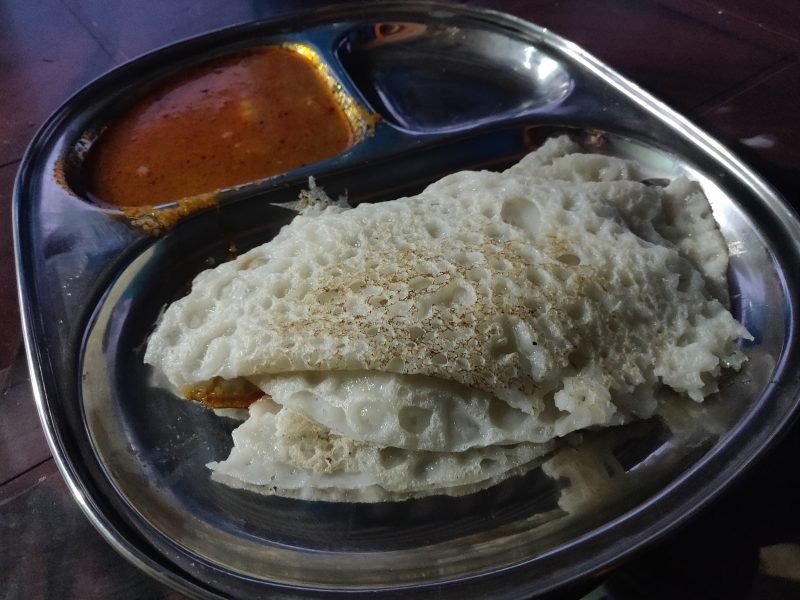 As we moved up towards our destination, the bending roads become even more beautiful. The palette of mountains folded in green was a fabulous sight to watch. We dropped down the window glasses and let the fresh air in. The kick of fresh air into our pollution-filled lungs was kind of a rejuvenating therapy for us. We have been to a number of places in Bangalore, but the western ghats never fail to impress us.
 Driving happily through the whirling roads of western ghats, we almost reached our homestay near Kudremukh- Upasana Retreat. Although, I'd prefer calling it a budget resort instead of a basic homestay. The road to the resort was thrilling to cover, you have the fascinating sight of mountains and carefully trimmed plants that add to the greenery. The retreat is constructed in four levels, as you enter through the main gate, on your left you got pretty play area for your kids, and on your right is the ayurvedic spa. Moving forward, the huge badminton court will definitely catch your attention. Next on the level is the super sexy swimming pool, the crystal clear blue water with a green mountainous background would make you jump in it without waiting for a minute. And finally, the level that has the stunning building painted in red and white that gives the feeling of an old charming bungalow in the countryside.
Out of all the weekend getaways from Bangalore we have traveled, this will surely remain in our good books for a long long time. Not just the beautiful location, everything about this place made our trip so much more memorable. Starting from the delicious food, the campfire,  the amiable staff, everything about this place made us promise ourselves to come back again.
Activities at Upasana Retreat
If  you are looking for a homestay near kudremukh to pamper yourself with some relaxation and rejuvenation, then Upasana has the right things on their plate for you:
Refresh your mind with some early morning Yoga activities (for groups only)
A Spa center to experience ultimate relaxation
Coz up with your partner near the campfire under the sky and watch the stars play hide and seek with the clouds.
If you are in some sporty mood – there's Table Tennis, Chess, Shuttle Cock, Carom to go for
Borrow a book from the library and get yourself a cozy corner to read
If you are with your buddies, don't miss the chance to show your singing talent to them, join the karaoke sessions and have fun
Places to visit near Kudremukh
You can choose from a number of things to do in Kudremukh, Upasana Retreat is located in close proximity to various activity areas thus you can plan accordingly.
Following activities/sightseeing tours are available at Upasana Retreat at additional costs on a Full or Half day basis. They will be happy to arrange transportation and provide a guide on prior request.
Tea and Coffee plantation walk
Elneer waterfall visit and Brahmagudi
Amba Theertha Riverfront visit
Mydadi Mountain Top
Kyathanmakki (Viewpoint)
Trek to Kudremukh Peak
Many more locations around the place 
So be it a romantic getaway from Bangalore or a family vacation, or just a time for yourself, Upasana retreat can be your best option for a stay that will suit your budget as well as give you abundance memories to cherish forever.
How to reach Upasana retreat? 
Upasana retreat is located around 300 kms from Bangalore. The best way to reach and enjoyable way to reach this place is by car. A scenic drive through the hilly town will be an added advantage to your trip.