Planning our bike ride to Coorg
We have been eagerly waiting for the monsoon season to set in. Why? Well, unlike others who choose to stay home and enjoy the rains sipping some hot and sour soup, my friends and me are more likely to hit the road and get drenched to our cores (I literally mean it). So, as the monsoon had announced its arrival we instantly decided upon Coorg to be our destination for monsoon bike ride trip. Coorg being one of the favorite places to visit near Bangalore and the distance of Coorg to Bangalore being within a doable limit, we at once agreed upon it and started planning accordingly. Therefore, the place being decided, we were stuck at choosing the route. There are a number of places to visit in Coorg and if one can plan, most of the places can be covered at ease. So, we choose to explore South coorg, situated adjacent to the famous Nagarhole national park.
We started our search for a nice homestay where we could go and relax after a daylong ride. Blessed we were to have found the homestay right how we wanted it – in midst of the jungle, just a stone's throw away from the Nagarhole reserve forest and river rafting camp. With less intervention of technology (read Internet and mobile), surrounded by green all around us, and overlooking the Brahmagiri from the room, we had a splendid stay at Coorg Blossom
Decided route: Hebbal – Nelamangla – Kunigal – Channarayapatna – Kushalnagar – Periyapatna – Gonikoppal – Coorg blossom homestay
Day 1
We couldn't wait to start the day as our excitement was on its high end. We reached hebbal sharp at 5AM, which was our decided point of starting. However, we could only start our journey at around 6AM as we all got busy discussing about the bikes, route and other biking stories. The total count stood at 22 with 13 bikes and 2 cars. without wasting anymore time, we straight headed to our next destination which was Kamath Upachar. After having a tummy-full breakfast and a small get-to-know session we started our journey. No sooner than we left the breakfast joint, rain started accompanying us, though we were not bothered as we already had our rain gears on predicting correct about the frequent showers. There are a number of things to do in Coorg, starting from trekking, rafting, camping, but our motto was to ride across Coorg and discover its magnificent beauty that specially unfolds during the monsoon.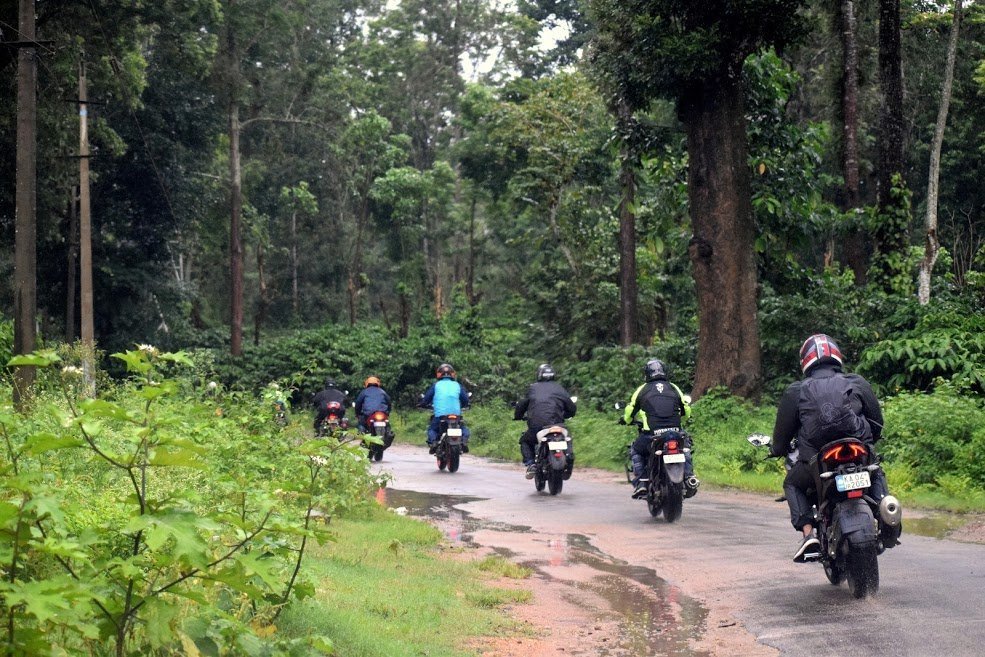 We continued our journey while rain didn't find a moment good enough to halt. Once we reached Channarayapatna, my rider and I stopped to refuel, the other riders had gone ahead meanwhile. After refueling, we went ahead on the same road only to realize after a while that we are headed on a wrong direction. Due to rain, we could not even take out our mobile phones (Realization: Technology cannot save you always). After getting directions from the locals, we finally found the right direction and hurried to catch the fellow riders. Soon we sighted them, but before that, we had to witness an ugly accident. It was raining and two local people were speeding dangerously, they could not control the speed and skid badly. Luckily, the rider survived leaving only with a broken leg and fractured elbow, the pillion was safe suffering minor cuts. (Realization: Respect speed, it has the power to take lives).
After we made sure the injured is on his way to hospital, we decided to move on. The beauty of riding through Coorg especially during monsoon is hard to explain. I mean there's no such phrase or word that would justify its beauty, at least I am not aware of any. We almost forgot that we were completely drenched in rain with unbearable body pain and a cold butt, all these didn't matter as our expectations from the ride has surpassed and we were overwhelmed with the natural beauty Coorg had in store for us. Our decision to ride to Coorg from Bangalore was all worth.
First stop – Namdroling Monastery – Golden Temple at Bylakuppe
The Namdroling Monastery is no doubt one of the most popular places to visit in Coorg. We reached the parking lot of the famous temple to park our bikes, rain still being with us without a miss. As most of us has visited the place a number of times, we decided to sit and sip some hot coffee and save ourselves from the chill. While a few (like me) decided to explore the beauty of this famous place. You will be spellbound by the cleanliness and simplicity of the place. No fuss, No queues, just a normal place where you can feel the calm and positivity in air. If you arrive there at the time of their prayer, you can see a number of monks and nuns chanting mantras. Suddenly you'll feel that you have landed in mini Tibet. There are small shops inside and outside the temple complex where you can shop for Tibetan souvenirs. After exploring all the temple complexes and a bit of souvenir shopping we geared up again to ride to our next destination – our homestay.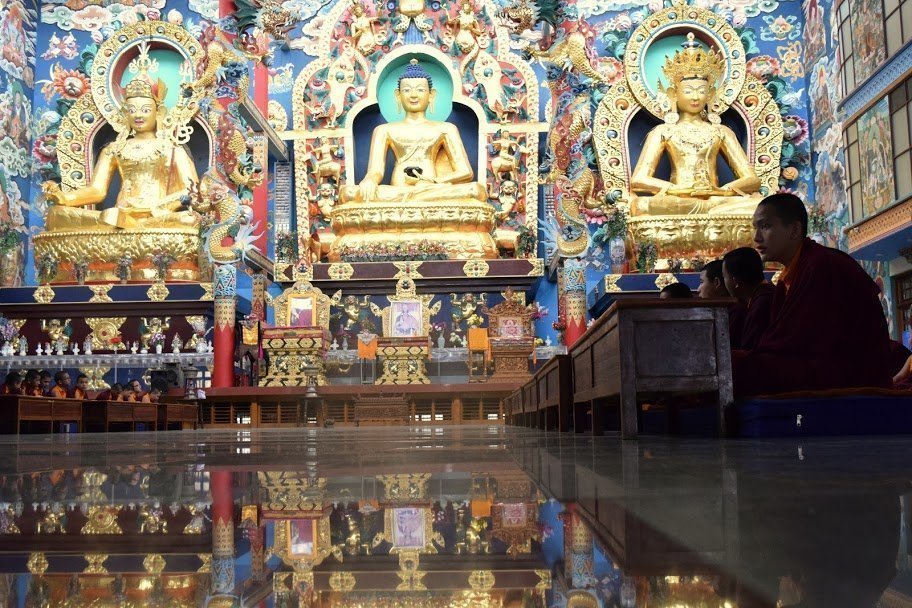 The unfortunate detour
As I have already mentioned that we were, very lucky to have found a home stay in such an amazing location, hardly did we know that the journey to the home stay would be so difficult. Just riding a few kilo meters after leaving the monastery, we had to stop as a bridge had collapsed. With no option left, we had to take a detour. The road that we took later was no doubt a scenic one, but heavy rain made it bit difficult for us to maintain a decent speed. After reaching Gonikoppal, we had to go down south in order to reach Kutta. It started pouring and we didn't had any other option other than to stop. A mid-aged person approached us speculating that we were lost. We told him about journey and how we desperately we wanted to reach our home stay. Surprisingly, he happened to be our host. We were damn lucky to have found him. We didn't hesitate anymore to ride in heavy rain as we were already drenched from tip to toe, our host led the way and we all followed.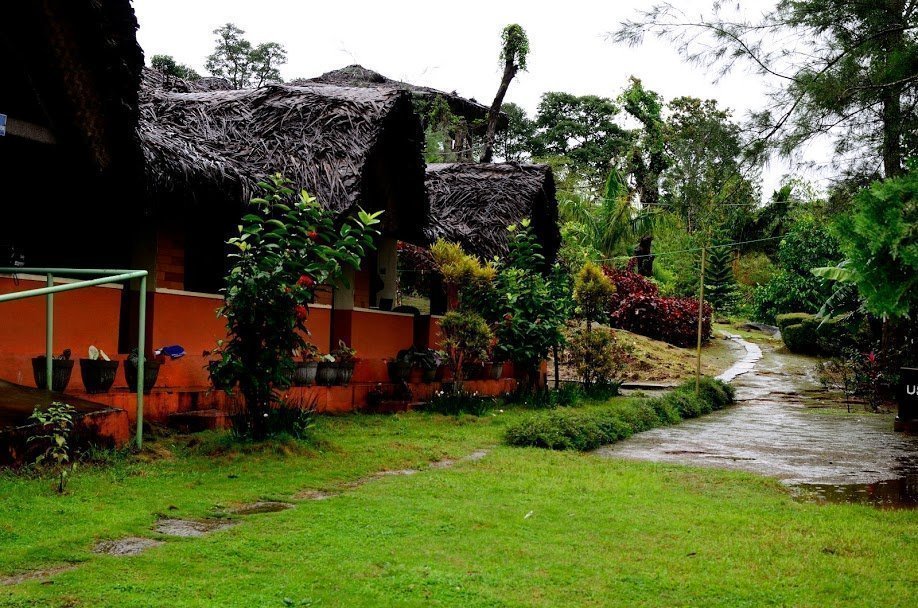 Google may ditch you #Incident 1
While all of us were together following our host, one of the car tried to act smart and went ahead following Google Maps. He ended up reaching some other home stay having a similar name. Luckily, the people around there were very kind and helpful, the owner of the other home stay showed them the correct way and finally they reached the actual home stay where we are supposed to stay.
Lost in jungle #Incident 2
We stick together while riding maintaining a decent speed so that each and every rider is able to follow. The single line formation was broken by a duo, who stopped saying they needed a break and will follow us soon. As rest of us were really tired and in a hurry to reach the home stay, we decided to keep moving slowly. As hilly roads are full of twists and turns, it is very easy to lose way if not following the lead rider and that's what happened with the other two riders who stopped for a break. Lost their ways, they were wandering around the jungle. It was going to be dark soon, and inside the forest, mobile signal was hard to get. Rest of us reached the home stay but left with no options except for counting minutes. After almost an hour, they were able to track the route of the home stay. Later, we came to know one of the rider was hit badly by a XUV 500, by god's grace he was not hurt (Realization – Safety gears are necessary whenever you are riding).
Calling it a night
Once everyone reached the home stay safe and sound, we filled our tummy with delicious buffet kept ready by the hosts. They had also prepared some snacks like pakora and bhajjis to enjoy in the chilling weather. All done, the riders spoke about their riding experiences and shared interesting stories. The clock clicked 12, tired we all called it a night.
Day 2
As we rolled our sleepy eyes and came outside the room, the mighty Brahmagiri was standing atal to greet us morning. Clouds made it difficult to sight the whole range, but the bits and pieces was worth a sight too. The photo enthusiasts in our group took out their gadgets to get a clear shot but failed multiple times. Panorama, time-lapse and landscape, we tried every possible mode to capture the beauty. hoping to capture some other natural wonders we started to take a tour of our home stay which was spread across an acre of land having lot of attractions. Starting from small pond, to natural water streams, our host was kind enough to show us around and tell us about how local people use the gift of nature in their daily lives. There was a small and long trek route from the home stay, but we decided to skip it as it was raining heavily.
After a fulfilling breakfast, it was time to leave and head towards the next destination. Due to less time in hand and continuous rain, we dropped our plan to visit Mandalpatti. While discussing about more places to visit in Coorg, our host suggested us to visit Irupu falls.
After a brief photo session in the lapse of nature and along with our rides, we bid adieu to our lovely hosts and started our journey of the day towards Irupu falls.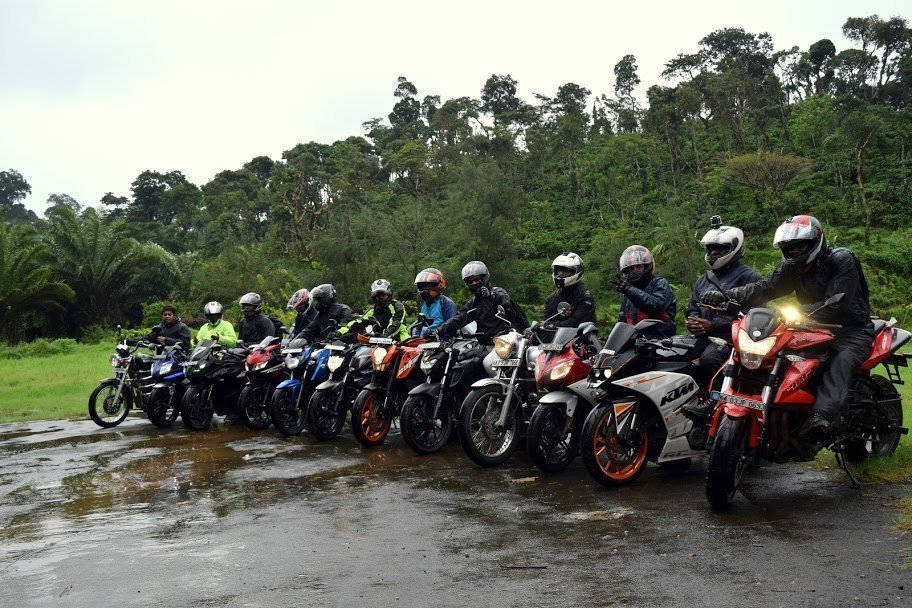 Ride carefully in rain #incident 3
A few kilo meters into the ride, one of our riders met with an accident. He was maintaining an average speed of 50-60km/hr, in the turn the bike skid badly due to gravels on the road. Safety gears did its job again that saved him from being injured badly. Looking at his condition, another person travelling in car came forward to ride his bike while he traveled in the car to get some rest. Soon we realized the bike's foot break is damaged and it needs a proper fix. We were already late, so without wasting anymore time we straight headed towards the falls. Oh yeah, four of the riders decided to head back from that spot as they had to reach Bangalore early.
To the waterfall
One can spot the waterfalls from quite a distance; it is a mesmerizing site to see the clouds circling the peak of the green mountains. It was drizzling as we approached the road to parking lot; rain seemed to help remove the quote of dust and made the green mountains look even lively. It is a small walk till the viewpoint and you have to pay INR 50 per head as entry fees. Putting on our rain gears and taking all possible weapons to save ourselves from rain, we started walking the long path to witness the mighty waterfalls. On our way, we crossed a small bridge, hiked a little and climbed few stairs.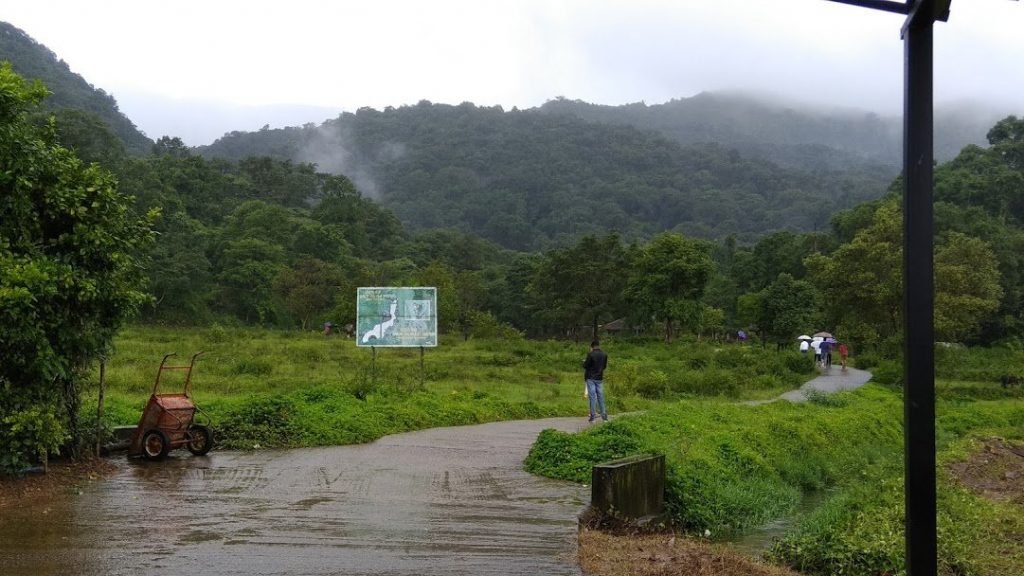 Tired and cold, we had less desire to visit more places in Coorg, however the gorging sound of the water falling from a scary height and at a great volume, made us all more curious to look forward. A few steps later we could get a clear view of the talked about waterfall. Monsoon seemed to have given it not some but huge power, I confess that I was bit scared approaching near the falls. However, the perimeter was secured with iron railings but still you will find some people who thinks themselves par excellence attempting to do the forbidden.
An usual moment to capture the memories in some of the water resistant phones and it was time to move on. A quick walk downhill and a last sight of the breathtaking view was all we could take back with us. After a short tea break (most necessary thing to do when you are constantly getting drenched in rain), we started our journey back home.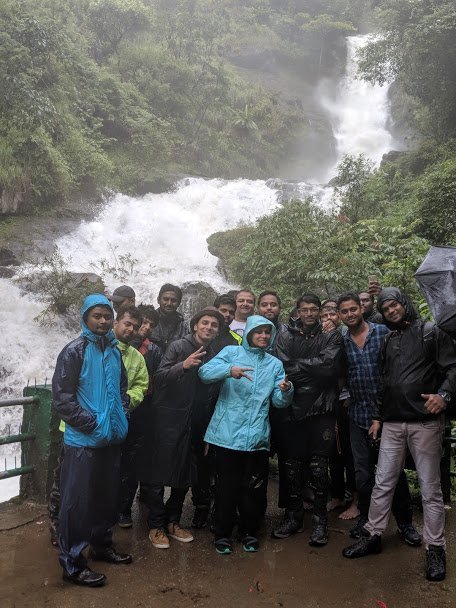 The unforgettable journey back home – Coorg to Bangalore
I have been to a number of rides, rode in different terrains, different temperatures, different situations, but the ride to Bangalore from Coorg was one of the most unforgettable one I could totally pledge. We were cruising at normal speed on our usual route only to realize that the road is closed due to heavy rainfall. left without any choice, we had to take a detour once again. ew others. On enquiring about the fastest route to reach the Bangalore, a localite suggested a short cut. the road, quite obvious was unknown to us, yet we took a chance to take that shortcut. indeed a best decision i could say. It was already starting to get dark and once on that shortcut road, it was completely dark. we realized there's nothing but only trees beside us which indicate that we were going through a jungle. Riding through that zigzag road, nothing but our headlights to see the narrow road was one hell of an experience, oh not to forget the constant pouring. It felt like we were challenged by nature at every turn of our Bangalore to Coorg bike trip, with heavy rains, roads blocked, taking unknown routes and what not. Finally we sighted the main road and everyone looked relieved. We stopped for small tea break and a moment of silence prevailed as we all were in an awe of nature's beauty and certainly realizing what a hell of trip it was.
Back on the main highway, we didn't bother much about the speedometer as everyone just wanted to reach home safely not wanting anymore adventures. Thankfully, with no more detours or sudden breaks we reached Bangalore around 3:00 AM bidding goodbye to our fellow riders with the promise to go on another adventurous ride soon.