FIRST BIKE TRIP IN BANGALORE – NANDI HILLS
So, after a lot of planning, anticipations, and countless suggestions, me and my biking group ( oh, I somehow managed to a part of Bangalore Bike Riders) buddies decided Nandi hills to be the first place to start our biking venture with.
Nandi hills tops the list of search results on Google when searched for best places to visit in Bangalore/ bike trips within 100kms from Bangalore. In fact, the image results will urge you to take this exhilarating trip at the earliest. So, we too were ready with our agenda – bike trip to Nandi hills.
Nandi hills is mere 50 kms from Hebbal circle, so we fixed Esteem Mall at Hebbal as our meeting point. We didn't want to miss the site of the sunrise, rising bright out from the blanket of clouds, so we decided to start early morning.
All of our group members reached the meeting point well on time (5:00 AM). Esteem mall being a common meeting point for all bikers, I was amazed to see the count of bikers that have gathered to start a trip towards their decided destinations. The vibe altogether made me more astounded about Bangalore and its biking culture.
LET'S GO TO NANDI HILLS
5:30AM –
After a formal greeting and meeting session, we started our journey towards the much talked about destination in Bangalore- Nandi hills. We were running behind schedule and the hope of catching the mystical sunrise at the top of the hill was fading away.
As we started our journey, the roads became wide and smooth. Accelerating on top gear to experience the essence of biking on highway. A halt for tea break right after the toll, the background dotted of the sun shining bright with its first rays falling on us. I was ready with my camera as I couldn't afford to miss capturing the alluring scenery of the sideways.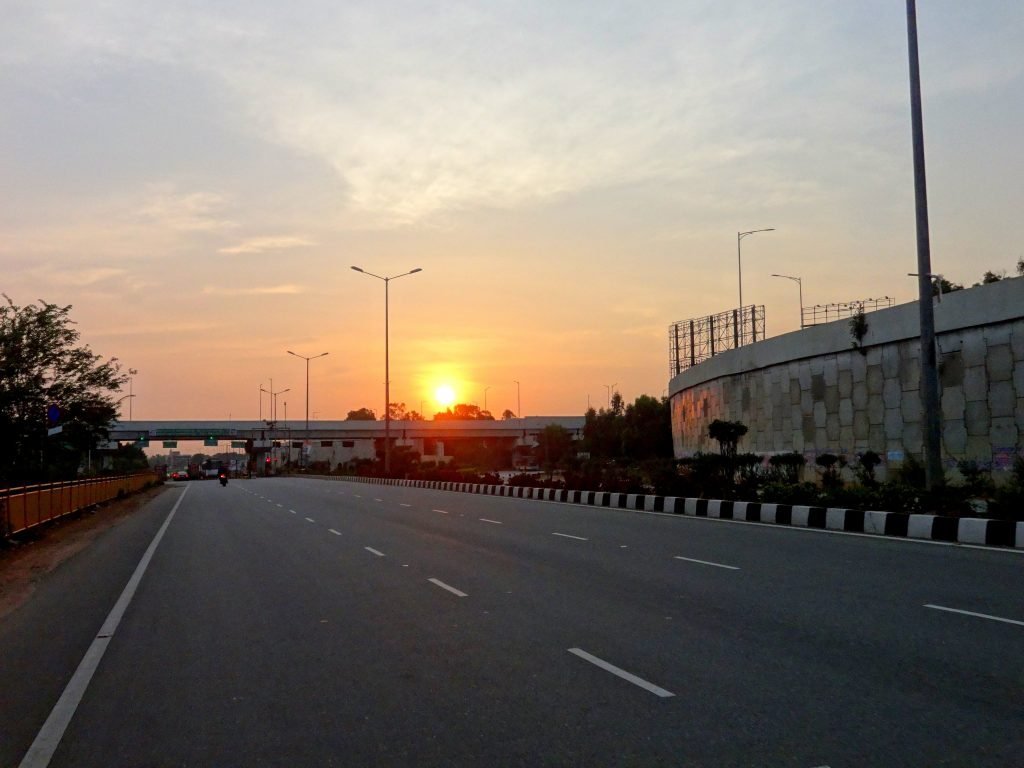 6:30AM –
We reached the circle from where the road to Nandi hills begins. You get a magnificent view of the mountain from this point itself. The road to hilltop is a sheer joy to ride on and the hairpin bends made the ride even more venturesome. There were atleast 40 hairpin bends which we crossed smoothly. I must confess at first I felt a little scared, but as we moved on my fear was blotted out while I enjoyed the mesmerizing views.
7:30AM – We rode till the parking area, quite contradictory to a mountain setting, this place was teeming with people, a mix of all age groups. The parking was full of bikes ranging from 100CC scooters to 1000CC superbikes. A glance at the parking lot would explain how popular Nandi hills is for bikers.
We parked our bikes, and moved on to stand in the queue to buy entry ticket. The hike starts right after you cross the big gate (which seemed to be transported from medieval times). Continuing our hike, we started exploring the nook and corner of the place simultaneously clicking photos 🙂
Come let's explore
We arrived at the viewpoint, the famous spot (I was told even clouds come and touch your feet if you are there on the right season right day and right time ofcourse). Sadly, we reached Nandi hills a little late, hence the view was not even close to what I had pictured in mind after seeing the photos in Google 🙁 A little disappointed we walked towards breakfast joint, consoling my mind atleast good food will make it compensate for missing the sunrise. Being a Bengali and a diehard foodie, I was taken aback seeing seeing the only options – Idly, Dhosa and Puri. Left with limited choice I went for my favorite south Indian dish- Dhosa.
9:30 AM – After a while lot of photo session and insta-worth selfies, we decided to return back as their was nothing much left to explore. Bidding adios to the hill-top beauty, we descended towards our way down.
10:00 AM – It was time to leave. Sad, as the trip was near to end, we took our bikes and started descending from the mountain riding again through the zigzag road.
Reaching the circle again, we bid final goodbyes and departed our ways towards our own destinations.
About Nandi Hills in a nutshell
Nandi hills also known as Nandidrug and Nandydroog is an excellent choice if you are planning a one day trip from Bangalore. It is situated at 4,851 ft above sea level and offers magnificent view of the surroundings from the top. Having historical connection with the great Tipu Sultan, this place evolves around interesting stories which can be very exciting to hear. With a dash of history, and awestrucking views to vest your memories with, a bike ride to Nandi hills can be a trip to remember forever.
Places to see at Nandi hills
Amrita Sarovar
Tipu Sultan's Fort
Tipu's Drop
Nandi Temple
Hebbal to Nandi hills: ~60 kms
Best time to visit: Throughout the year, best October to April
Route : Hebbal – Devanahalli – Nandi hills